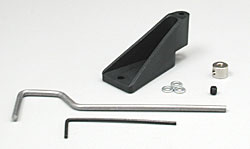 DUB
DUB376 TAIL WHEEL 60 SIZE Bracket(Part # DUB376)
---
    For the R/Cer who wants a sturdy bracket for their tailwheel assembly,    
Dubro's tailwheel brackets are your choice. Made of lightweight, durable Nylon 
the #376 is great for .60 size airplanes. Includes 1 bracket, 1 pre-bent wire  
axle (3/32" diameter), 3 flat washers, and a Dura-Collar.                      
Requires a 1" diameter (DUBQ0945) or 1 1/4" diameter (DUBQ0950) tailwheel.  
---
Share this Product