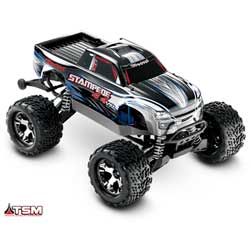 TRA
Stampede 4X4 VXL, RTR, TSM, w/o Module, (PART# TRA67086-4)
---
PLEASE NOTE ACTUAL VEHICLE COLOR MAY NOT BE AS PICTURED - IT WILL BE DETERMINED BY ACTUAL IN STOCK COLOR.
Key Features
Traxxas Stability Management (TSM)
Powered by the Velineon® Brushless Power System
Traxxas High-Current Connector (patented) allows high-capacity battery packs to deliver maximum voltage to the Velineon Brushless Power System
Exclusive waterproof electronics extend brushless power and performance to water, mud, and snow
Maxx® Cable 12-gauge wire
Velineon VXL-3s Electronic Speed Control
Velineon 3500 Brushless Motor
TQi 2.4GHz transmitter
Dual-bellcrank steering with integrated servo saver
Unique Shock Guards protect the suspension arms and shocks
4-Position Wheelie Bar
Digital high-torque steering waterproof servo
Rubber-sealed Ball Bearings
Overview
The Stampede 4X4 VXL is engineered like no other to turn extreme power into extreme monster truck fun! Traxxas Stability Management (TSM) lets you experience Stampede's extreme power, speed, and acceleration by making it much easier to control on slippery surfaces such as loose dirt, smooth concrete, and even ice and snow. The efficient, low-mass drivetrain is totally optimized for the brutal torque of Velineon brushless power, and following the legacy of the Stampede name, this 4X4 is overbuilt and Traxxas Tough to withstand all the 4-wheel drive monster mayhem you can dish out. The patented adjustable wheelie bar is required equipment as Stampede 4X4 launches hard, sending the front wheels soaring for the sky. You're in full control with the Traxxas TQi 2.4GHz radio system and the superior handling of fully independent suspension and smooth bellcrank steering. Choose a 7-cell NiMH battery (sold separately) for 35+mph speed or install a 3S LiPo pack, and Stampede 4X4 shatters the speedometer with 60+mph speed! It's brushless done the Traxxas way: brutally fast and easy to use.
Stampede 4X4 VXL comes fully-assembled and Ready-To-Race® with Traxxas Stability Management, TQi 2.4GHz radio system installed and adjusted, Velineon brushless power system, a painted and decaled body, pre-glued tires, and detailed instructions. Just select the battery and charger of your choice to complete the package. Traxxas backs Stampede 4X4 and all of our products with top-notch support that is second to none.
Traxxas Velineon Brushless Power system defines a whole new generation of outrageous electric power that doesn't know limitations and boundaries. Pour in the voltage and out comes the speed in tidal waves of force harnessed by precision throttle control. The Velineon 3s Brushless Power System features system components that work together as an optimized package, from the patented Traxxas High-Current connector to the custom-wound motor. It's engineered together from the start to deliver the ultimate in efficiency, speed, and run-time along with precision throttle response and refined control. It's brushless performance the Traxxas way: wicked fast and easy to use. Just plug it in and it works, no special knowledge or programming skills required.
Water, mud, and snow don't slow down Stampede 4X4; its electronic speed control, receiver box, and high-torque digital steering servo are all waterproof for no-worry fun in wet conditions that send other trucks running for cover. Drive Stampede 4X4 where you want, when you want-the only limit is your imagination.
Please note: Requires battery and charger. On Board Audio Module is separate.
Type: Monster Truck
Scale: 1/10
Length: 19.69 in (500mm), 15.63 in (397mm)- without wheelie bar
Width: 13.39 in (340mm)
Height: 9.21 in (234mm)
Ground Clearance: 2.90 in (74mm)
Wheelbase: 10.83 in (275mm)
Weight: 89.64 oz (2.54kg)
Chassis: Nylon Composite Molded Tub
Drivetrain: 4WD
Motor or Engine: Velineon 3500 Brushless
Speed Control: VXL-3s Electronic Speed Control
Radio: TQi 2.4GHz (2-channel)
Batteries: Required NiMH, or LiPo Battery
Charger: Required
Speed: 35+ mph (60+ mph with optional gearing and 3S LiPo battery)
Gear Pitch: 32P
Kit/RTR: RTR
Shock Type: Oil-Filled Ultra Shocks with X-ring technology
Body: ProGraphix painted
Ball Bearings: Full Rubber-sealed
Recommended Environment: Outdoor
---
Share this Product