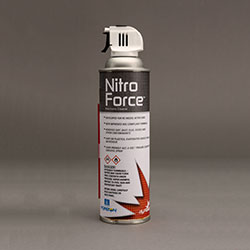 Dynamite (DYN)
Nitro Force: Nitro Car Cleaner
---
Nitro Force is Lexan(r)-friendly and won't harm bodies or other plastic parts like gears or radio gear cases.
Blasts away grease, fuel, dirt and more
Safe for use near bodies, radio gear, and more
Quick-drying formula
Attention California Residents
Due to California State Regulations we are unable to ship this product to any address within the state of California at this time.
Nitro Force from Dynamite® is the easiest, most effective way to clean any nitro car or truck. Specially formulated to remove oil residue, dirt, grease, grime and more, it prevents residue buildup so nitro vehicles stay in great shape. The Nitro Force formula is also safe on plastics, car bodies and radio gear, so users don't have to worry about damaging any of their components. The quick-evaporating formula dries in seconds without leaving any film or residue, and it is environmentally safe.
---
Share this Product