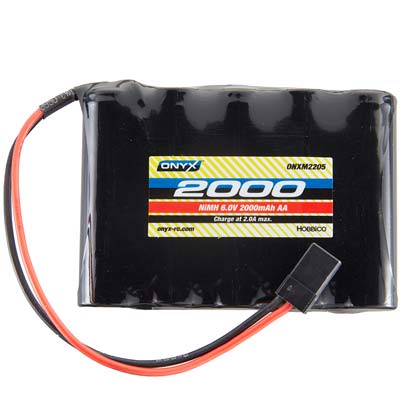 ONYX
ONXM2212 NiMH 6.0V 2000mAh AA Flat Receiver Universal P
---
This is the Onyx NiMH 6V 2000mAh
Flat Receiver Battery Pack with Universal Connector.
FEATURES
Designed for .50-.90 size helicopters and other large scale aircraft
2-year limited warranty-Onyx brand batteries are warranted to be
free from defects in materials and workmanship for a period of two
years from the date of purchase. During the first twelve months,
ONYX will, at our discretion, repair or replace without service
charge any product deemed inoperable due to those causes.
After the first full year of warranty coverage ONYX will provide
extended warranty coverage for another 12 months covering only
defects in materials and workmanship. Extended coverage is limited
and does not cover problems caused by abuse, misuse, and improper
maintenance, failure to follow instructions, ordinary wear, or use
past the battery's maximum rated number of cycles.
INCLUDES
Onyx NiMH 6V 2000mAh Flat Receiver Battery Pack w/Universal
Connector
REQUIREMENTS
Compatible Battery Charger such as the Hobbico Accu Cycle Elite,
Hobbico 12V DC Quick Field Charger MkII, or the Great Planes
ElectriFly Triton EQ
SPECIFICATIONS
Capacity: 2000mAh
Number of Cells in Series: 5
Rated Voltage: 6V
Min. Discharge Voltage: 4.5V
Maximum Recommended Charge Current: 2.0A
Discharge Lead Size: 22AWG
Pack Dimensions: 2.02 x 2.8 x 0.59" (51.5 x 72 x 15mm)
Weight: 4.93oz (140g)
Number of Welds Per Connection:
Cell Size: AA
---
Share this Product